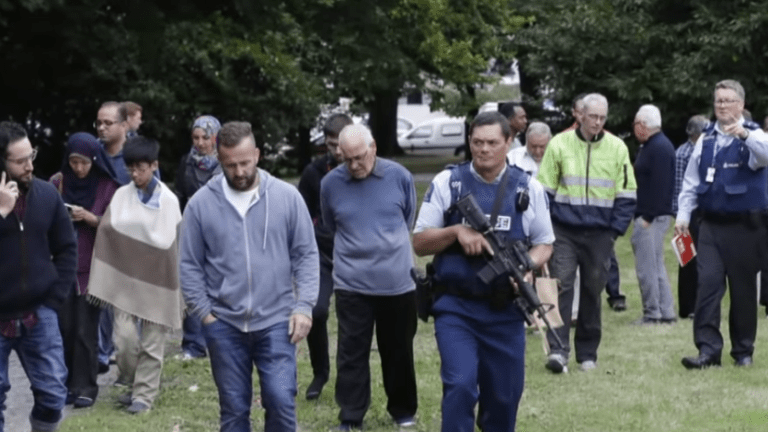 49 killed in terror attack at New Zealand mosques
Forty-nine people lost their lives in a terror attack which targeted two New Zealand mosques.
According to news reports, officials said that one man in his late 20s had been charged with murder. They had also found two explosive devices attached to a vehicle that they had stopped.
The mosques targeted were the Al Noor Mosque the Linwood Mosque.
Three others were detained but authorities have said that one of the detainees may not have had anything to do with the terror attacks.
Nour Tavis was in the Al Noor Mosque with his friend when the shooting started. He told the New Zealand Herald:
"Then we heard screaming ... everyone panicked," he said. "There was shooting and shooting and shooting ... people were running and all of a sudden you saw them fall."
Tavis told the outlet that he saw someone smash a window and jump out. "It was the only way to escape," he said. "I followed."
He then ran for cover and knocked on a neighbor's door who let them in.
"We got in there and I could see another man had been shot, I could see blood," he said. "There were people bleeding to death ... it was terrible."
Khaled Al-Nobani spoke to the news outlet about what he saw at the Al Noor Mosque as a man entered with two rifles, one a "pump action", and "started shooting everyone".
"This guy, this terrorist guy, stand maybe two minutes. After that he was shooting everyone, everyone - young people, old women," Al-Nobani said.
"He shot the first one on the gate, two people in the corridor, and go inside started shooting everyone.
"I leave through a door, break the gate and start taking the kids first. My friends help."