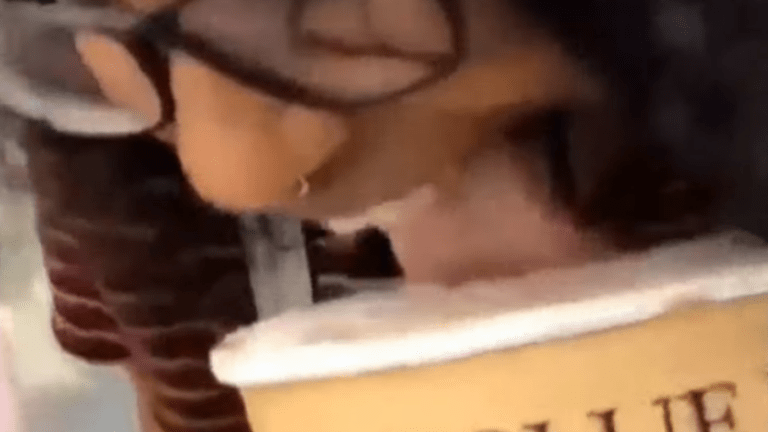 Woman Cold Face up to 20 Years in Prison for Viral Ice Cream-Licking Video
A woman who was caught on camera licking a tub of Bluebell ice cream before returning it to the store could face up to 20 years in prison over her gross prank.
Lufkin Police say the woman faces a charge of second-degree felony tampering with a consumer product, which carries two to 20 years behind bars and a possible fine of up to $10,000.
In the now-viral footage which has been viewed on social media more than 11 million times, the woman smiles as she licks a half-gallon of Blue Bell Tin Roof ice cream -- which the company describes as "a vanilla ice cream with a rich chocolate fudge swirl and roasted peanuts dipped in dark chocolate." 
The ice cream brand is unimpressed by the woman's antics, calling it a "malicious" act.
"We have identified a Walmart in Lufkin, Texas, as the store where the malicious act of food tampering took place. Our staff recognized the location in the video, and we inspected the freezer case. We found a Tin Roof half gallon that appears to have been compromised. Based on security footage, the location and the inspection of the carton, we believe we may have recovered the half gallon that was tampered with. Out of an abundance of caution, we have also removed all Tin Roof half gallons from that location," they wrote via a statement on their website.
"The Lufkin Police Department has been notified and is taking over the investigation."
The statement continues: "The safety of our ice cream is our highest priority, and we work hard to maintain the highest level of confidence of our customers. Food tampering is not a joke, and we will not tolerate tampering with our products. We are grateful to the customers who alerted us and provided us with information."
"Our detectives are working to verify the identity of the female suspect before a warrant is issued for her arrest on a charge of second-degree felony tampering with a consumer product," a police spokesperson said.