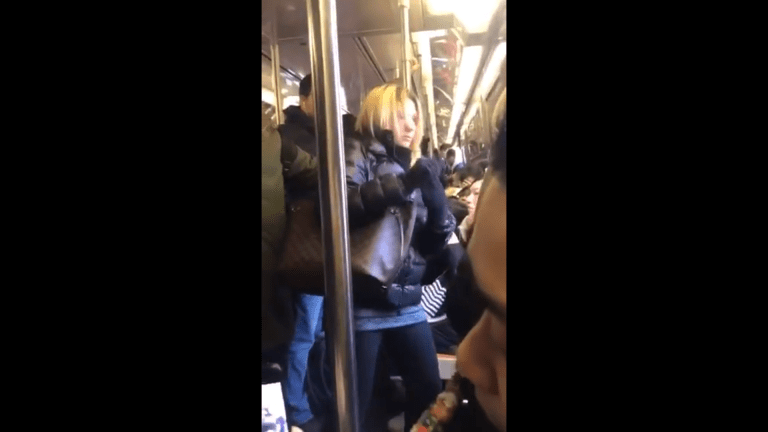 White Woman Arrested For Racist Attack On Train
New York Police Department officers have arrested a white woman who launched a racist tirade on a subway train.
 A video of 40-year-old Anna Lushchinskaya surfaced online on Thursday showing her kicking and hitting an Asian woman with an umbrella before calling her a racial slur during a morning ride on the D train in Brooklyn.
Police said Anna Lushchinskaya was charged with felony assault after the racist and violent attack Tuesday morning.
NYPD transit retweeted the viral post with the caption:
"ARRESTED: 40-year-old Anna Lushchinskaya was arrested by officers from Transit District 34 in Brooklyn and charged with felony assault in this case- Thank you to everyone who intervened and provided information"
According to the HuffPost, Lushchinskaya was also charged with several misdemeanors, including criminal possession of a weapon, attempted assault and harassment.
The comments under the video showed an outpouring of support for Lushchinskaya's victim.
"I'm sure you were all late for work but you did the right thing and helped that poor girl from that disgusting person," one follower wrote.
Another wrote, "The racial insults were disgusting. I'm glad the others there called her out immediately for that and didn't let her keep physically hitting the other woman. The whole situation is messed up. Some people have more dangerous weapons on them than an umbrella."
"She was actually detained by the guy who took the video, although I have no idea how he managed that (and peacefully, from what I can tell). Check out his thread, it's kinda wild."