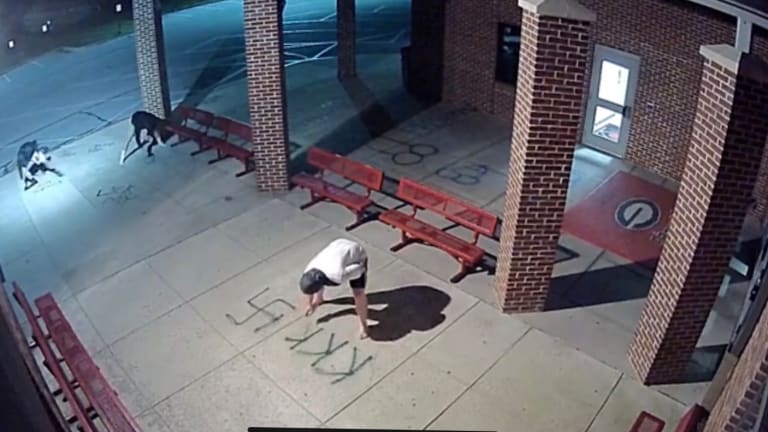 White Teens Caught on Camera Spray Painting Slurs & Swastikas on Campus
Teenagers of a predominantly white high school were caught on camera vandalizing school property with racial slurs and symbols. A year later, their actions were legally classified as hate crimes.
On the last day of Glenelg High School when family and friends would visit, the Maryland campus was filled with racial profanity.
With over 100 markings, vulgar language and symblols such as "Jews", "Nigs", "Fags" and "KKK" were found all over the school's sidewalks, trash cans, and stadium. The school's principal David Burton came face to face with "BURTON IS A NIGGER" written in capital letters.
The vandalism was reflective of the school's racial demographics and the country's political climate. Burton was the school's black principal and the graduating class had less than 20 black students in a class of almost 300.
The boys, Seth Taylor, Matt Lipp, Josh Shaffer and Tyler Curtiss were quickly discovered as the perpetrators. With their faces covered in masks, the school's WiFi system automatically connected their student identification to the server once they were on school grounds.
Unlike other similar circumstances increasing throughout the country, the Maryland school decided to proceed with legal action. The school immediately classified the event as a hate crime, and the boys were tried as adults in their court hearings.
The court agreed with the school's charge. After apologizing in court, Judge Tucker responded to the boys: "I appreciate the fact that you are now trying to show that you are not a racist, that you committed a racist act. But part of what I need to do is punish you. So the sentence is going to be as follows."
Scaffer (who graffitied Burton) was sentenced to 3 years probation, 250 hours of community service and 18 consecutive weekends at the local jail. Taylor also received the same sentence as Scaffer, but with only 9 weekends at the Howard jail. The other two boys were similarly sentenced.
When it comes to domestic terrorism and hate crimes in the United States, white assailants continuously escape from legal punishment, excused for being 'young' with 'a future' ahead of them, 'coming from good families'. This same leniency is not afforded to black and brown American boys.
How the school and judge chose to reprimed these young men for the men that they are, is telling of a political and social awareness they have. A year later, with hate crime on their records the boys received the legal consequences of their very real and hateful actions.