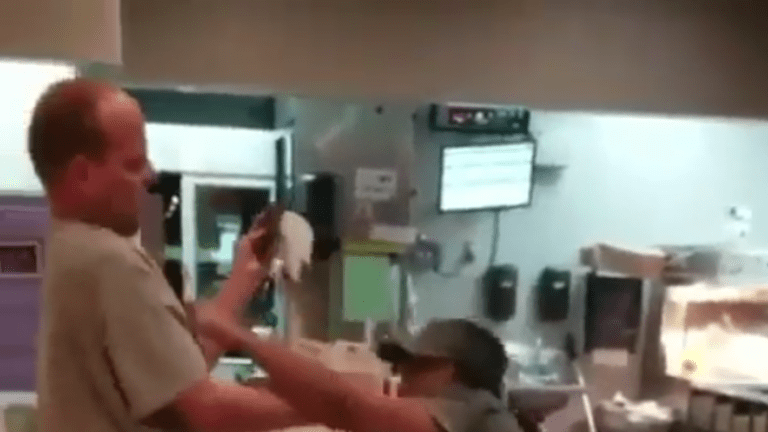 White Man Assaults Black McDonald's Employee; She Fights Back
A video has gone viral of a white man physically assaulting a Black female, McDonald's employee but he gets more than he bargained for when she fights back.
The incident took place at a McDonald's restaurant in St. Petersburg, FL. The two are seen engaged in a verbal altercation before the white male assaults the Black employee by grabbing her shirt.
She then proceeds to deliver several swift blows to the man's head, until he finally lets go of her shirt. The employee is asked to go home.
The man can then be heard yelling:
"I want her ass fired right now," and "I was just asking you a f*cking question, b*tch." He then threatened to call the cops on her.
She told him that he will be going to jail as he put his hands on her first. which he did as the crystal clear footage shows. Viewers were outraged that the store manager did not stand up for his staff member and seemed to be trying to placate her attacker.
"Hey @McDonalds this is in your St Petersburg, FL store:
•Violent white man verbally & physically assaults a black female employee & manager's response is to check his order?🤔😳
•Why weren't authorities called??
•Twitter: Who is this violent white guy?" one viewer wrote.
Amanda Seales even hopped on Twitter to tweet:
"@McDonalds PLEASE EXPLAIN WHY THE EMPLOYEE IN THIS VIDEO WAS FIRED AFTER DEFENDING HERSELF FOR BEING ATTACKED BY A PATRON!!!!"
According to Newsweek, Daniel Willis Taylor, 40, of Clearwater, Florida, was charged with two misdemeanor counts of simple battery.