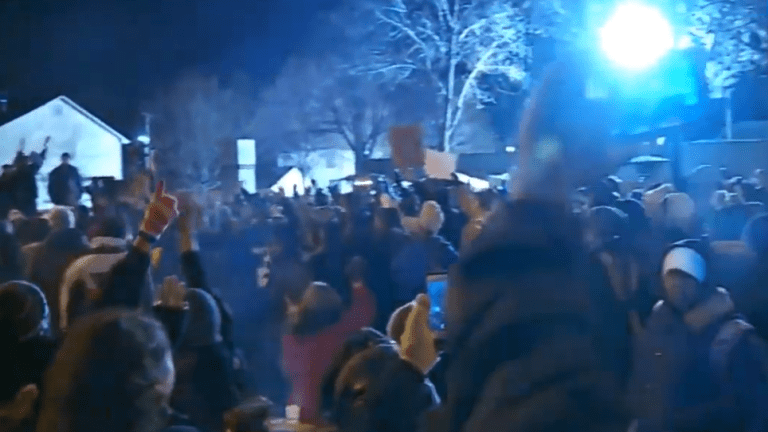 Two Minneapolis Cops Placed on Leave after Racist Christmas Tree "Prank"
Two Minneapolis police officers have been placed on leave following a racist Christmas tree "prank."
The two officers are now being investigated by internal affairs after they decorated the Fourth Precinct with a Newport cigarette pack, a can of Steel Reserve malt liquor, police tape, a bag of Takis and a paper cup from Popeyes Louisiana Kitchen.
Mayor Jacob Frey has condemned the act as a "racist display."
Civil rights activist Ron Edwards called the incident a "wink wink" to racist stereotypes.
"It's a modern-day version of a dog whistle, tainted with racism, specifically against the African-American community," Edwards told the Star Tribune.
The photo has been circulated online, and although the mayor vowed to fire the policeman involved, the cops are still getting paid. A spokesperson for the mayor released the following statement:
"While Mayor Frey's earlier statement reflects his sentiment, he recognizes there is a legally required process that must be followed," said Michael Vlatkovich. "He has full faith in Chief [Medaria] Arradondo to see that process through in a timely manner."
Minneapolis officials are still working to repair the damage done after the shooting of an unarmed Black man, Jamar Clark back in 2015. His death sparked protests lasting over two weeks.
Jeremiah Ellison, a City Council member, was involved in the 2015 precinct protests. 
"Man, every way I could put it would understate it," said Ellison. "It's disappointing, but also I think deeply disturbing to wake up to something like that. Not just for myself, but for my neighbors."
The community is outraged and local activists are demanding the firing of the officers involved as well as sensitivity training for the entire MPD.