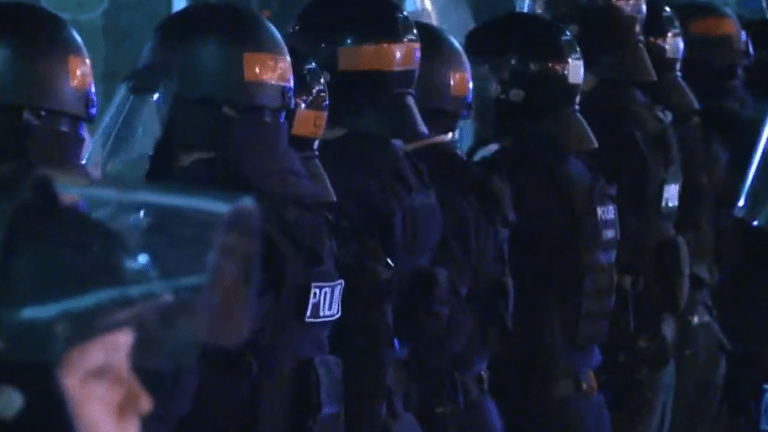 St. Louis Police Officers Indicted for Beating Undercover Cop
Four St. Louis police officers were indicted Thursday on federal charges for the beating of an undercover colleague.
The beating allegedly took place during protests last year, and the colleagues conspired to cover up the attack.
According to STL Today, the indictment also claims that several of the officers exchanged messages that "expressed disdain" for protesters and "excitement about using unjustified force against them and going undetected while doing so."
Officers Dustin Boone, Randy Hays, and Christopher Myers threw the 22-year police veteran to the ground and kicked and hit him with a police baton on Sept. 17, 2017.
The protest were the aftermath of the acquittal of former police Officer Jason Stockley on a murder charge for the fatal shooting of Anthony Lamar Smith. 
After the officers learned that they had attacked a fellow police officer and not a protester, the three male officers lied about the arrest, claiming the man resisted arrest and was not compliant, the indictment says. They also contacted him to try and get him to have the cases against them dropped.
The officer was kicked in the face, which inflamed his jaw muscles to the point where he could not eat. He went from about 185 pounds to 165.
He also sustained an injury to his tailbone, which still causes him pain, the sources said and underwent surgery to repair two herniated discs in his neck and one in his back. He is still wearing a neck collar.
Some of the text messages between the officers were made public:
In one Sept. 15, 2017, message, Myers writes "let's whoop some ass."
On Oct. 5, 2017, Hays writes "going rogue does feel good."
U.S. Attorney Jeff Jensen said he would not make any statements outside of a news release announcing the charges.
 Police Chief John Hayden said police called for the FBI's help after learning about the allegations involving the undercover officer.
"I am deeply disappointed in the alleged actions of these individual officers; however, it is in no way reflective of the hard work and dedication exhibited by the men and women of our Department who serve the community on a daily basis with integrity and honor," his statement says.
The officers could face up to 20 years in prison if convicted.