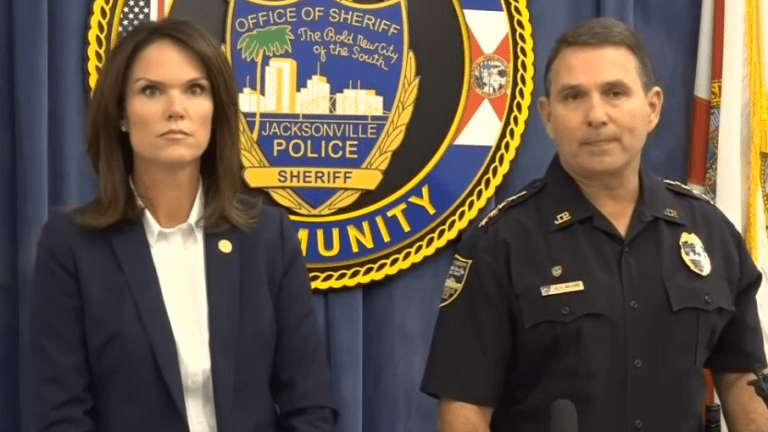 Remains in Alabama believed to be 5-year-old Taylor Rose Williams
Human remains in a wooded area Tuesday morning are thought to be the remains of missing 5-year-old girl, Taylor Williams.
Jacksonville Sheriff Mike Williams said they are awaiting confirmation of the remains, but says that they believe the remains belong to Taylor.
Taylor was reported missing by her mother, Brianna Williams, a week ago, Brianna Williams, and was charged Tuesday with giving false information to police and child neglect.
Williams was absentee booked after an apparent overdose at NAS Jacksonville, where she works as a petty officer first class, Sheriff Williams said, adding that she is in serious condition.
According to several reports, the remains were found on County Road 55 off Highway 28 in Marengo County, according to the Demopolis Police Department.
Taylor's great aunt told WUVA-TV, "I'm feeling a lot of hurt."
"It's unbelievable that this is going on, but, as a family, we try to work through it just try to get closer together," Boyd Jackson said.
Williams stopped cooperating with the investigation after the first day of the search and was considered a person of interest in her daughter's disappearance, Sheriff Williams told reporters.
Last week a cadaver dog alerted on the trunk of the mother's car, a black 2017 Honda Accord, which was towed from her Brentwood home last week, per News4Jax.
"We need her cooperation," Sheriff Williams said in a news conference as he announced the deployment of the search teams to Marengo County, Alabama.
FBI Jacksonville Special Agent in Charge Rachel Rojas said they are offering any and all assistance, both locally and in Alabama.
"We've called upon several of our skilled teams, including the FBI child abduction response team, the cellular analysis survey team, the evidence response team, and many others with legal and technical expertise," Rojas said. "There is a lot of love for Taylor here -- even those who have never even met her."