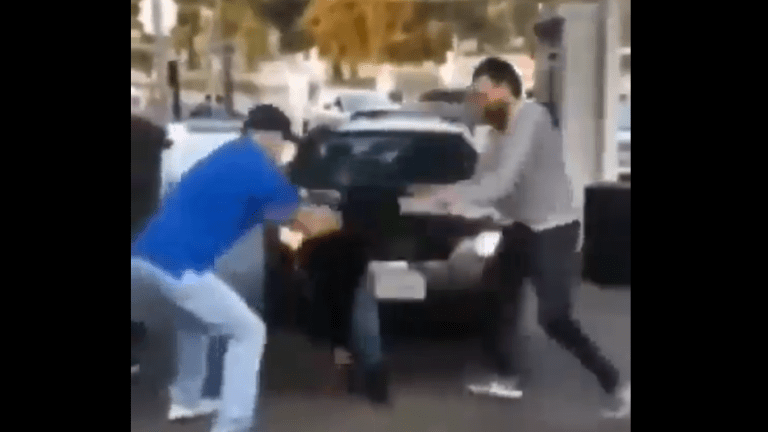 Protesters boycott gas station after video of owners beating Black women goes viral
Protestors are boycotting a gas station on Pittsburgh's North Side after two female customers were assaulted by the owners Friday evening.
Police stated that they responded to a report of a fight at the Exxon station at 2501 Brighton Road about 6:45 p.m. on Friday between the male owners of the station and two female customers. 
According to the report, the incident apparently kicked off when gasoline spilled on the ground, and the customers wanted a refund. The owners refused the refund.
Community activist, Shaun King posted the video to his social media pages, seeking information on the men involved in the attack:
"I need to know the names of EVERY single cowardly man in this video. NOW," he wrote.
"This is in Pittsburgh on the North Side at the Exxon station at 2501 Brighton Road. The owners are some of the cowards in this video. But I need to know the name of every single coward who laid hands on these women. What's that white man's name too? ALL OF THEM. And before you start asking what this woman did to deserve this, unfollow me. These men held her down and beat her. Her gas pump malfunctioned, which they always do in the hood, and she wanted to be sure she got a refund. I don't care what she did. What these cowards did was wrong and they would NEVER do this to a white woman. Period."
But the police say that it was one of the women who became physical first, with multiple videos showed a female customer initiated a confrontation inside the store. The fight then continued outside.
"Do not come here. They beat black women," Kelli Shakur of Beltzhoover shouted at passing motorists, per the Post-Gazette. "Don't get gas. Don't get nothing here. They beat black women."
The investigation is ongoing. Protestors are demanding that the station is shut down permanently.