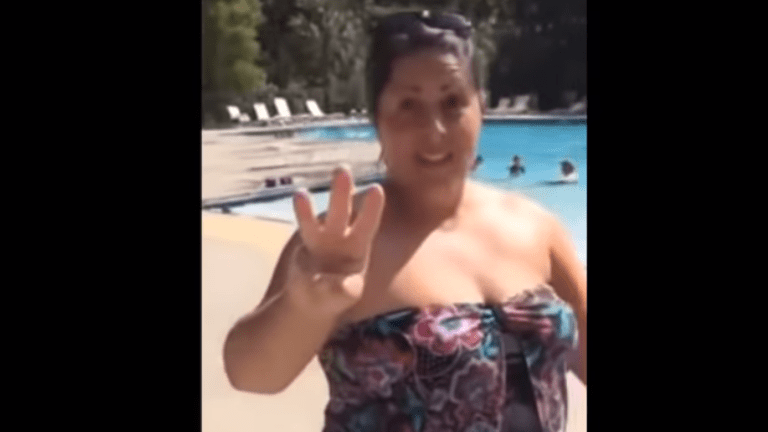 'Pool Patrol Paula' Pleads Guilty to Assault and Battery
 A white woman has pleaded guilty to assault and battery for hitting a Black teenager and telling him to leave a community swimming pool.
Dubbed "Pool Patrol Paula," 38-year-old Stephanie Sebby-Strempel was caught on camera telling lack teen DJ RocQuemore Simmons and his friend that they didn't belong.
"Get out! Get out! Get out! Now!" she can be heard yelling. "There's three numbers I can call: 9-1-1."
Local news reports that Sebby-Strempel pleaded guilty Monday to the June assault and was ordered to pay a $1,000 fine. A Dorchester County sheriff's report says she told the 15-year-old he didn't belong at the Summerville pool. She also poked him in the chest and hit him in the face.
Sebby-Strempel even resisted arrest, shoving one detective into a wall and biting another hard enough to break the skin. 
At the time, Sebby-Strempel worked for Rodan + Fields, a multilevel-marketing company that specializes in skin-care products. Soon after the video went viral, they released a statement informing the public that they had let her go.
"With regard to (the assault on a minor charge), we're not terribly concerned with it but will say there are certainly more than one side of the story on that charge," Sebby-Strempel's legal representative told the bond court judge, reports WMC Action News.
"No child including mine or anybody else's ever, ever, deserves that type of abuse or treatment," DJ's mother, RocQuemoredeanna said, according to WMC Action News. "And to be struck not once, not twice, but three times by someone that is upset because of the color of someone's skin, and they don't belong at their swimming pool."