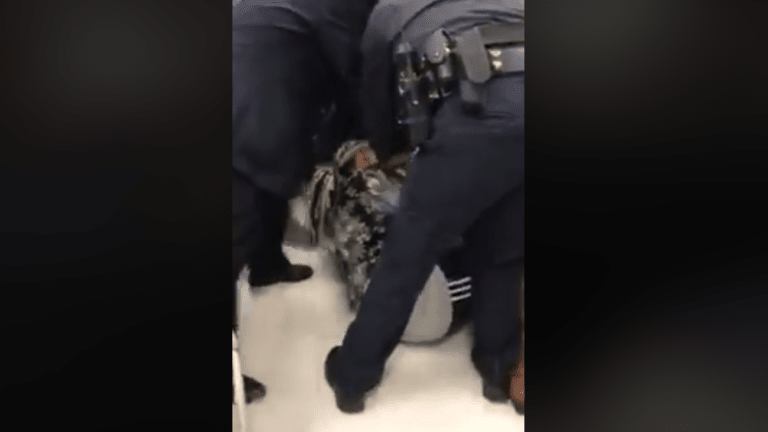 NYPD Slammed for Attempting to Pry Baby from Mother's Arms
A group of NYPD officers were caught on camera attempting to snatch a baby from his mother's arms.
The incident took place at a Brooklyn food-assistance center on Friday, and the footage is now going viral.
The video shows the young mother, Jazmine Headley, 23 — sitting on the floor at a SNAP center in Boerum Hill. A uniformed officer then tries to snatch her year-old son from her arms. Headley is dragged across the room as she holds onto her baby. An officer allegedly pulled out a taser and waved it around at the observers.
In the background, a person can be heard yelling:
"Oh my God, oh my God, look what they're doing to us, look what they're doing to her." 
Somebody else can be heard yelling: "There's a f*cking baby in her hands!" 
The video has sparked outrage online.
"That officer pulling that child needs to be fired immediately !!"
"According to a witness, their was no seating. She was there for hours & decided to sit on the floor. She was told to stand up & she refused. I think it was a little drastic trying to rip the baby from her arms."
"No excuse for "protecting and serving" by taking the risk of breaking a baby. I spit on them and those who defend them."
"They hire these security guards who have no manners, don't know how to work most of them think they are cops then they call the police and they mess up. What happened to community policing. De Blasio you have to address this quick."
According to the New York Post, the NYPD said they were investigating the "troubling" incident.