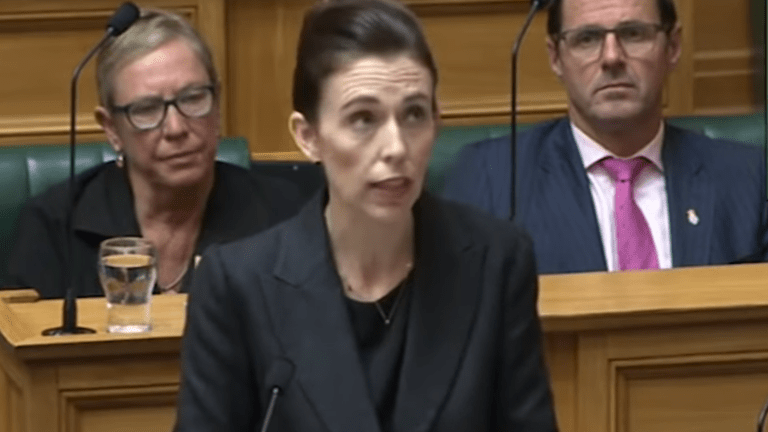 New Zealand's Prime Minister vows never to say gunman's name
New Zealand's Prime Minister Jacinda Ardern has vowed never to say the name of the Christchurch mosque gunman during an address to the country's parliament.
"He sought many things from his act of terror, but one was notoriety - that is why you will never hear me mention his name." 
She continues: 
"I implore you, speak the names of those who were lost rather than the name of the man who took them. He is a terrorist. He is a criminal. He is an extremist. But he will, when I speak, be nameless."
 Ardern then assured MPs that the attacker would "face the full force of the law." 
Since last week's horrific attack, Ardern has already announced that the nation's gun laws will be reformed.
Australian Brenton Tarrant, 28, a self-proclaimed white supremacist, has been charged with one count of murder - while others will follow. He live-streamed the mass shooting but nobody called in the attack until almost 30 minutes after.
"We cannot simply sit back and accept that these platforms just exist and that what is said on them is not the responsibility of the place where they are published," she said. 
"They are the publisher. Not just the postman. There cannot be a case of all profit no responsibility."
The New Zealand police are quickly trying to identify all of the victims so that the bodies can be released for burial. It is islamic tradition for bodies to be buried as quickly as possible.
Police said the bodies of six victims had now been released to families and that 12 bodies had been formally identified and all 50 post-mortem examinations were complete.
A statement read: "Police are acutely aware of frustrations by families associated with the length of time required for the identification process following Friday's terror attack.
"We are doing all we can to undertake this work as quickly as possible and return the victims to their loved ones."