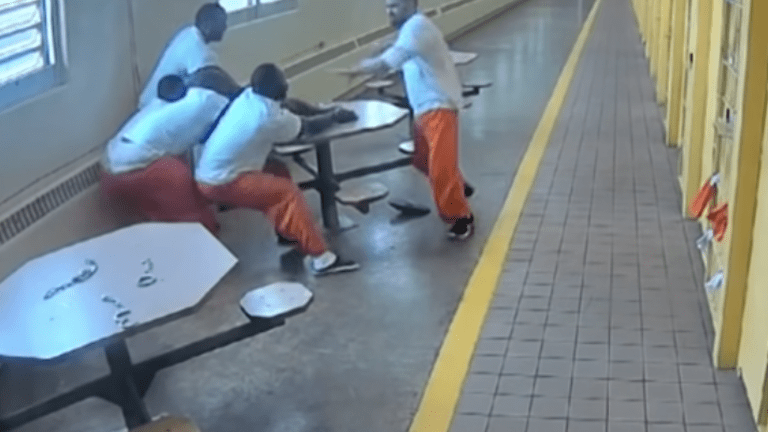 Lawsuit filed against officers who laughed as supremacist stabbed cuffed Black inmates
A federal lawsuit filed has been filed in the Southern District of Ohio after prison guards reportedly laughed as white supremacist inmates stabbed two Black inmates who were handcuffed to a table.
Two correctional officers, identified only by their surnames, Faye and Dalton per USA Today, laughed during the stabbing which took place in June 2017. The incident was captured on surveillance footage and went viral online.
According to the suit, filed by suit seeks on behalf of two of the victims, Shamieke Pugh and Maurice Lee, they are seeking $75,000 in damages. The suit claims the victims' civil rights were violated, and that they suffered cruel and unusual punishment because of the prison guards' response to the stabbing.
Pugh, Lee and two other Black inmates were strip-searched before they were allowed out of their cells for recreational time and were then handcuffed to a table.
Greg Reinke, a member of the Aryan Brotherhood was not strip searched before he was cuffed to an adjacent table. He pleaded guilty to the crime
Guards reportedly "gave Reinke a key" or "knew or should have known that Reinke" had a key or device to unlock his handcuffs.
Reports show that Reinke used an 8-inch blade in the attack on the Black inmates but that he also had a 12-inch blade in his sock. 
The two inmates suffered several stab wounds and heavy bleeding while the other two sustained minor injuries. One victim escaped his cuffs and tackled Reinke, guards pepper-sprayed the victim. Reinke was not pepper-sprayed or tackled by guards.
At one point, one of the guards said, "We should just let them die."