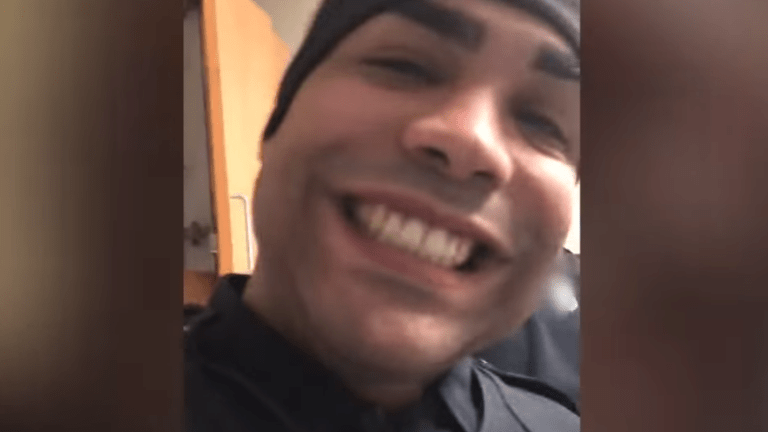 Former cop gets 6 months in prison for filming his partner slapping suicidal patient
A former New Jersey police officer who recorded his fellow officer slapping a suicidal patient has been handed a 6-month sentence in federal prison.
Roger Then, who is seen smiling into the camera, was also given a year of supervised release when he was sentenced by U.S. District Judge William H. Walls, the U.S. Attorney's Office said in a statement.
The victim was reportedly injured so badly by the assault that he needed surgery on one of his eyes.
The victim insulted one of the officers, Ruben McAusland, from his hospital bed, the officer then pulled on medical gloves and slapped the man twice across his face, according to the FBI.
In another video, McAusland is seen pushing the victim's wheelchair with his hands and punching the man in the face near the admissions desk after the victim threw medical glove boxes at the staff. Officer Then is seen grabbing the man by the back of the neck, pushing the falling wheelchair further toward the floor.
McAusland was sentenced to more than five years in prison last week. Last year he also pleaded guilty last year to selling marijuana, heroin, and powder and crack cocaine that he stole from a crime scene per NJ.com. It is reported that he sold those drugs to another law enforcement official.
"I will not tolerate any corruption anywhere in Paterson, especially not in the police department," Mayor Andre Sayegh said in an interview with The Washington Post. "That's why we will ensure any crooked cop will be brought to justice."