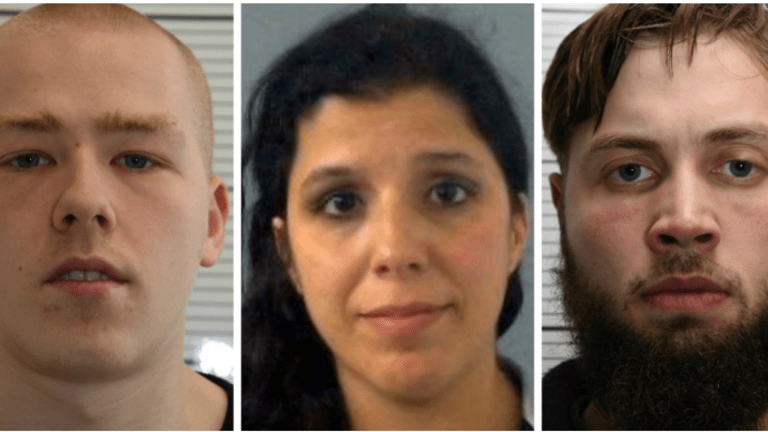 Couple Found Guilty of neo-Nazi Group Membership; Named Baby After 'Adolf Hitler'
A British couple, who named their baby after Adolf Hitler, has been found guilty of being members of a banned neo-Nazi group.
Adam Thomas, 22, and Claudia Patatas, 38, from Banbury, were found guilty along with fellow member Daniel Bogunovic, 27, from Leicester, were charged with being in the right-wing group - National Action.
The son of Thomas and Patatas were given the middle name 'Adolf' after the infamous Nazi party leader. 
The trial took place in Birmingham, which is in the midland region of Britain. According to the BBC, jurors saw images of Thomas in Ku Klux Klan robes while cradling his baby.
National Action was founded in 2013. The group was later was outlawed under anti-terror legislation in 2016 after it publicly celebrated the assassination of Labour Member of Parliament, Jo Cox.
Cox was she was shot three times and stabbed multiple times. She was murdered by Thomas Mair, a 52-year-old who had links to the US-based neo-Nazi group National Alliance. It is reported that she shouted out "Britain first" as he stabbed her to death.
Thomas denied being a member of the group, telling the court that the pictures showing him wearing KKK clothing were "just play." He openly admitted to being a racist.
The police found an 18in blade, two crossbows just a few feet from the baby's crib as well as a pastry cutter shaped like a Swastika in a kitchen drawer. Pendants, flags, and clothing emblazoned with symbols of the Nazi-era SS and National Action were also found.
All three defendants will be sentenced Dec. 14. Patatas was given bail. Thomas and Bogunovic were both remanded in custody.
West Midlands Counter Terrorism Unit (WMCTU) Detective Chief Superintendent Matt Ward, said: "This result is a culmination of two years of painstaking work in the West Midlands and across the country to recognise and understand the threat of National Action.
"These individuals were not simply racist fantasists; we now know they were a dangerous, well-structured organisation. Their aim was to spread neo-Nazi ideology by provoking a race war in the UK and they had spent years acquiring the skills to carry this out. They had researched how to make explosives. They had gathered weapons. They had a clear structure to radicalise others. Unchecked they would have inspired violence and spread hatred and fear across the West Midlands.
"Today's convictions have dealt a significant blow to National Action. We have dismantled their Midlands Chapter but that doesn't mean the threat they pose will go away.
"Others on the periphery will take on leadership roles and so I ask for the public's vigilance − if you see this group's posters or stickers please report them to police − where there are new cells, we will intercept and prosecute them."