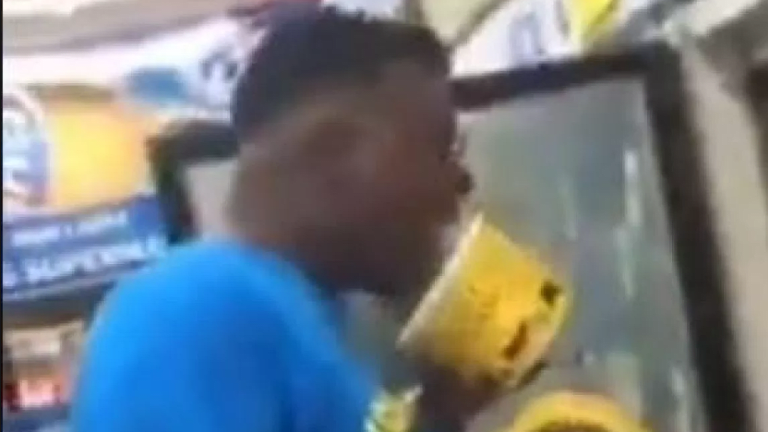 Copycat Bluebell Ice-Cream Licker Arrested & Charged
A man has been arrested and charged after he entered a supermarket and licked a carton of Bluebell ice cream - copying a video which went viral last week.
Assumption Parish Sheriff's Office (APSO) deputies arrested Lenise Martin III,36, and placed him in into custody on Saturday, CBS Baton Rouge affiliate WAFB-TV reports.
Martin foolishly filmed himself inside a Belle Rose store taking a Blue Bell container, licking the ice cream and moving his fingers inside before returning it to the freezer for an unsuspecting customer to purchase and take home.
"We discourage anyone from copying this atrocious act," an APSO spokesperson told WAFB-TV. "It is illegal. It's a health risk to others. We will pursue anyone we see do this. You will be charged."
Martin will now have to sit behind bars until Monday to appear before a judge.
The news comes after a woman filmed herself carrying out the unsanitary challenge and uploaded the video to social media. Detectives have reportedly spoken to the suspect but are refusing t reveal her name t the public.
Ice cream giants Bluebell issued a statement following the release of the video:
"We have identified a Walmart in Lufkin, Texas, as the store where the malicious act of food tampering took place. Our staff recognized the location in the video, and we inspected the freezer case. We found a Tin Roof half gallon that appears to have been compromised. Based on security footage, the location and the inspection of the carton, we believe we may have recovered the half gallon that was tampered with. Out of an abundance of caution, we have also removed all Tin Roof half gallons from that location," they wrote via a statement on their website.