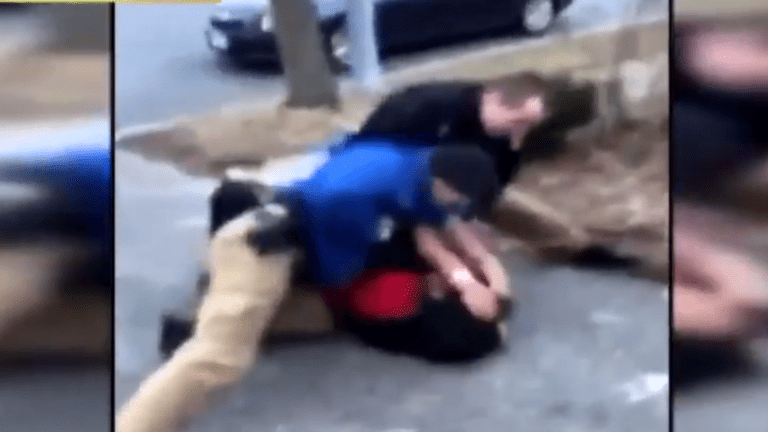 Cops repeatedly punch teen during drug arrest
A video has surfaced online of police officers repeatedly punching a teenage boy during a drug arrest.
New Castle County Police are currently reviewing the arrest of a teen in a marijuana possession arrest, according to Delaware Online
The officers were reportedly called to the scene after receiving a complaint of drug dealing. When they arrived, they smelled marijuana they smelled marijuana on a 16-year-old boy, Roger Darnell Brown, who fit the description from the complaint. A struggle then took place and officers are seen repeatedly punching the minor.
Spokesman for the department said:
"It's an internal investigation right now. We always hold our officers to the highest standards of police conduct, and a complete review of this incident is underway."
Cops reportedly found "numerous" bags of marijuana, a digital scale, prescription pills and over $1,000 in cash on the teen, Eckerd added.
Brown was charged with, resisting arrest, manufacturing delivering or possessing with intent to manufacture or deliver a controlled substance,
two counts of misdemeanor offensive touching of a law enforcement officer, possession of a controlled substance, misdemeanor criminal mischief as well as possession of drug paraphernalia for marijuana.
"It's horrible. I'm so scared," Brown's mother, Mary Fleming said. "My heart is broken, I just want to talk to my kid."
She had also not been able to see the extent of her son's injuries, who was still being held at the time of the interview.
"Oh, it's the worst feeling in the world," she said. "It's ridiculous, and I'm so upset."
The family's attorney, Chris Johnson also weighed in"
"We believe it was unreasonable and excessive force used to apprehend Roger," Johnson said.