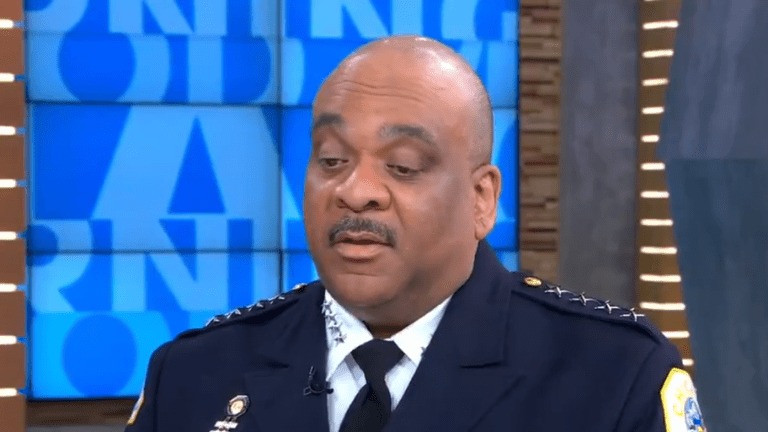 Chicago police Superintendent Eddie Johnson sits down for interview with Robin Roberts
Chicago police Superintendent, Eddie Johnson has sat down with 'Good Morning America's' Robin Roberts to open up about the Jussie Smollett case.
Johnson went viral last week after he slammed Smollett in a press conference, alleging that the 'Empire' actor choreographed a hate crime to get a higher salary.
"Like any other citizen, Mr. Smollett enjoys the presumption of innocence, particularly when there has been an investigation like this one where information, both true and false, has been repeatedly leaked. Given these circumstances, we intend to conduct a thorough investigation and to mount an aggressive defense," Johnson can be seen telling Roberts in the clip.
"It's not the Chicago police saying [the attack was staged], it's the evidence, the facts and the witnesses that are saying it.
They [Abel and Ola Osundairo] said that he paid them $3,500 with a check … to carry out this incident."
Since the press release, the FBI has reportedly disputed that Smollett had paid the brothers to stage the attack and leaked text messages have indicated that the check may have been to pay for personal fitness training.
But Johnson did not appear to walk back on any of the statements that he made last week and is standing by his team.
"We didn't earn this particular incident and I refuse to let us take that shot if we have evidence of the contrary … [Filing a false report] is a dangerous thing to do to a city and to a police department. Something like this can be really damaging. We made a lot of progress in the last three years in terms of race relations … I just hope people don't judge other people that are victims of these types of crimes."
Smollett has always denied the charges.
"Today we witnessed an organized law enforcement spectacle that has no place in the American legal system. The presumption of innocence, a bedrock in the search for justice, was trampled upon at the expense of Mr. Smollett and notably, on the eve of a Mayoral election," Smollett's attorneys Todd Pugh and Victor Henderson said in a statement.
"Mr. Smollett is a young man of impeccable character and integrity who fiercely and solemnly maintains his innocence and feels betrayed by a system that apparently wants to skip due process and proceed directly to sentencing."