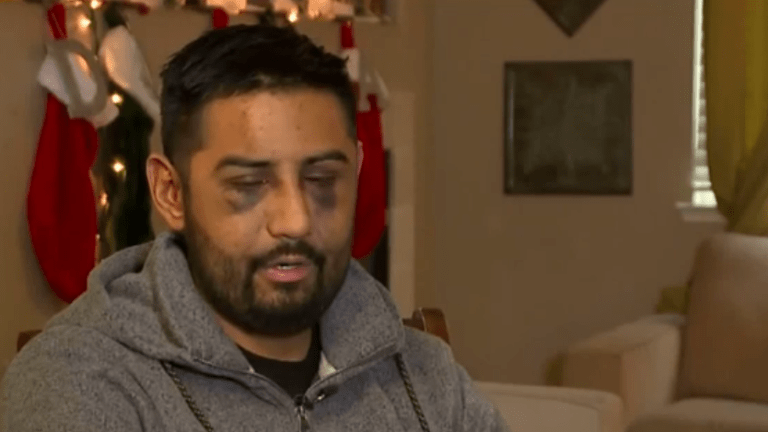 Cali man claims cops yelled racial slurs and beat him in jail
A man from California who was taken into custody in Stockton has alleged that corrections officers at the San Joaquin County Jail made racist remarks toward him before holding him down and beating him.
Jacob Angelo Servin told FOX40 that he was at Basil's bar on Grand Canal Boulevard the night of the incident. Servin says that he was with his girlfriend when they were told to leave. Servin says his keys were still in the ignition as he prepared to drive home when officers approached him.
Servin was subsequently arrested on suspicion of public intoxication.
"When Mr. Servin arrived from Stockton P.D. and was booked into our jail we did not see any visible injuries at that time," said San Joaquin County Sheriff Patrick Withrow.
While the San Joaquin County Sheriff's Office accuses Servin of being combative during his arrest, he claims that they used racial slurs against him. 
"When he was placed into the cell, they started to remove the handcuffs and when they took one handcuff off the fight was on," Withrow said.
"The officers, there were two males and a female," Sheriff Withrow said. "He grabbed hold of the female, tried to drag her to the ground and would not let go of her. And so they fought the best they could to try and free her and to get themselves out of the cell and get that door closed."
Servin denies their account of the story and says that the cops also beat him.
"They forcefully take me to a disclosed area where it was away from intake and that's where they held me down by my feet, held me down by my hands, beat me to a pulp," Servin said. "One by one they choked me. They put my head backwards like this behind the chair. I thought my neck was going to snap."
Servin continued:
"If that was the case, I would not be sitting here talking to you. I'm positive I'd still be in jail for assaulting an officer and trying to take their equipment," Servin said. "They said I tried to bite her? Come on, just be realistic. I'd still be in jail, and I'd be waiting to see a judge for that, for those kind of actions."
Servin reportedly had bloodshot eyes, a broken nose, and bruises all over his body. He now wants the officers involved to lose their jobs, saying that they have abused their power.
The investigation into the incident is currently ongoing.