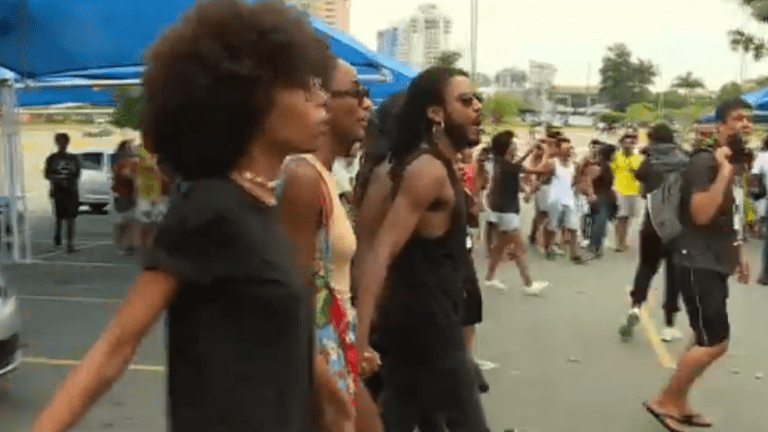 Brazil protests death of Black teenager after he was restrained by security guard
Brazilian activists are protesting the death of a Black teenager after a supermarket security guard forcibly restrained him.
19-year-old Pedro Gonzaga died of a heart attack in hospital on Thursday after being restrained by the security officer who used a "sleeper hold."
Protests broke out across the country in Rio de Janeiro, São Paulo, Belo Horizonte, and Fortaleza, according to the Guardian.
Video footage of the arrest shows Davi Amâncio on top of the teen while locals can be heard begging for him to let the youth go.
One woman can reportedly be heard saying: "He is suffocating him." Another witness yelled that Gonzaga had turned "purple." Gonzaga was later taken unconscious to the hospital, where he died shortly after.
The Brazillian #VidasNegrasImportam (Black Lives Matter) has been trending online, and social media is drawing comparisons to the brutal killing of Eric Garner.
Rene Silva, one of the organizers of the Rio protest and the founder of the Brazilian newspaper, Voz das Comunidades told the Guardian:
"There has never been a Black Lives Matter [movement] in Brazil to compare to the United States, but this year I think it will happen more often because the black community is more and more united."
"We want to talk about more about black lives matter, for society to understand we can't stand racism anymore," he said.
The supermarket which employed the security guard revealed that they are investogating the incident.
"After the individual was restrained by the security guards, the store called the police and the rescue immediately," the supermarket said in a statement. "The company has already filed an incident report and is cooperating with the authorities to further investigations."