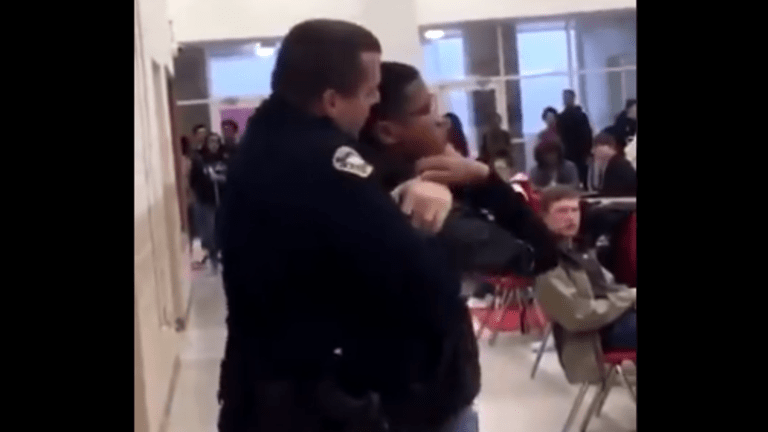 Arkansas police officer placed on leave after placing Black student in chokehold
An Arkansas police officer has been suspended, pending an investigation, after a video began circulating involving an officer and Camden Fairview High School student.
Officer Jake Perry, who was assigned to the high school as a School Resource Officer, was caught on camera, getting into an altercation with what appears to be a student at the high school Perry can be seen on video holding a student in a chokehold position in the school's cafeteria. The video has been shared over 6,000 times.
The student, who has since been identified as ninth-grader Dekyrion Ellis, spoke to a local news station about the experience:
"I feared for my life," Ellis told KTVE. "I didn't know what was going to happen. I blacked out. I really didn't see anything until he took me back to the office."
Camden Police Chief Boyd Woody released a statement, revealing that Officer Perry has been relieved of his duty pending an investigation, effective immediately.
"As the Police Chief, I will not tolerate misconduct from officers, and this matter will be dealt with accordingly and I will be transparent in doing so." 
"I (Superintendent Lilly), have been informed that the officer involved has been relieved of duty pending an investigation by Camden Police Department (CPD). Camden Fairview School District (CFSD) will fully cooperate with the CPD's investigation. In order to prevent similar incidents from occurring in the future, CFSD will work with the CPD to ensure that current policies and procedures for all SROs stationed at CFSD schools are reviewed and revised if necessary. CFSD's first priority is, and will continue to be, to provide an excellent education to all of our students in a safe environment."