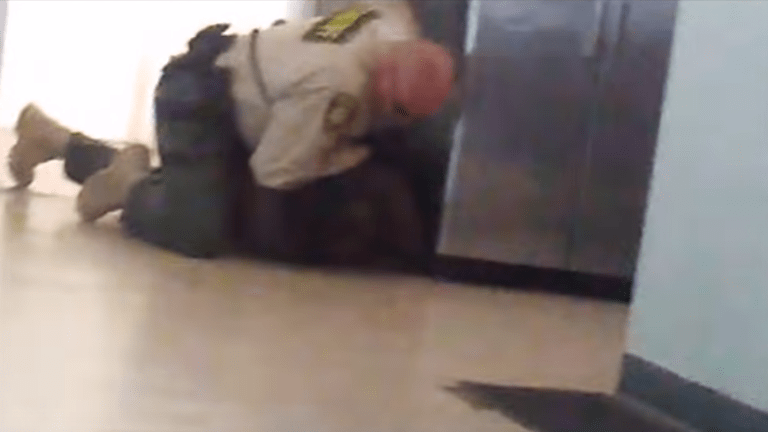 Arizona cop caught on camera violently attacking Black amputee
An Arizona police officer is under fire after video footage of his violently wrestling a 15-year-old Black teen with no arms or legs went viral online.
The Pima County Attorney's office was forced to drop disorderly conduct charges against 15-year-old Immanuel Oloya, who was then arrested by the Pima County Sheriff's Department in September, per KOLD News.
"Today, for the first time, our office saw the video from the September 26th, 2019 incident involving Immanuel Oloya. The Public Defender obtained this video and released it to news media, but our office was not given any opportunity to review this video until today. Upon reviewing the video, we have dismissed the charges pertaining to this incident," a statement from Jonathan Mosher, chief criminal deputy reads.
The officer at the center of the controversy, Manuel Van Santen who is an 11-year veteran of the force, has been placed on administrative leave while the sheriff's office investigates.
Samuel Jurgena, the Pima County public defender representing Oloya, says that Santen should lose is badge over the incident:
"I think everyone feels in my office this cop should not be out here with a badge and a gun if this is how he's treating kids in group homes," he said. 
In the video, Van Santen can be seen holding Oloya in a headlock.     
'Don't f*cking hold me down! Oloya is heard yelling at the Pima County deputy as a witness records the chilling incident. "Don't f*cking hold me down, n*gger, "Oloya, 15, yells repeatedly. The officer is also seen slamming the teen's head into the 16-year-old who was recording him.
Pima County Public Defender Joel Feinman spoke to The Washington Post about the incident:
"These are kids who have already been traumatized in some way," said Feinman, whose office is representing both boys.