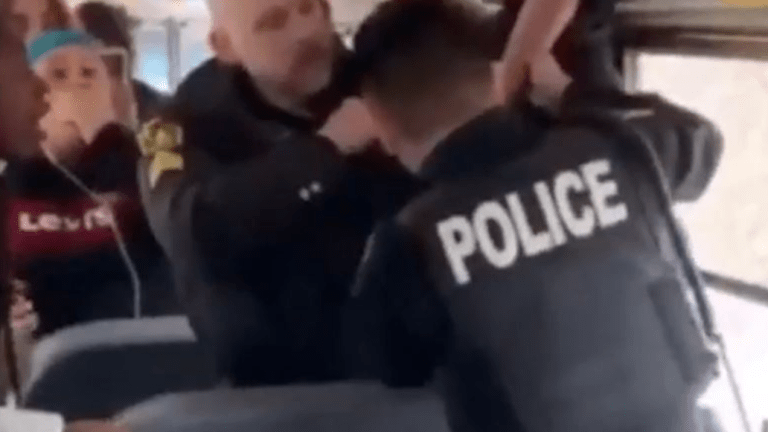 Activists call for the firing of West Mifflin police officers' after incident with teen on school bus
An activist group is calling for the firing of two West Mifflin police officers after they were involved in an altercation with a 15-year-old girl on a school bus last month.
The video of the incident went viral.
"We plan to continue reaching out, and we're asking for everyone who is available to advocate," said Fawn Walker-Montgomery, founder of Take Action Mon Valley, on Wednesday per the Post Gazette. "I think it's sad that it's become almost normal for these things to happen, but we're not going to accept that."
On Dec. 18, the incident, which was captured on cellphone video and shows police Sgt. Christopher Mordaunt and Officer Tommy Trieu in an altercation with the girl. In the video, the officers have the teenage girl pinned against a school bus window as they pull on her hair.
A borough council meeting was held on Tuesday night, where locals vented about the cop's overzealous response.
"You have two grown men with a 15-year-old black girl bear hugging her, pulling her hair, and her blood is squirting on her classmates," Ms. Walker-Montgomery said at the meeting. "There's nothing you could tell me that would excuse a 15-year-old child being assaulted like that."
"Sergeant Christopher Mordaunt and Officer Tommy Trieu committed a crime when they brutally assaulted this tiny girl," attorney Paul Jubas, who has been retained by the girl's family, wrote in an Instagram post in December. "They sprayed her blood all over her fellow students and incited riot-like conditions on a school bus. Everything was calm on this bus until these officers began their vicious assault. To make matters worse, other videos prove they lied in their affidavit of probable cause."
Community activists are pushing for the charges against the teenage victim to be dropped.
Allegheny County Councilwomen Bethany Hallam and Olivia Bennett released a joint statement requesting that the district attorney file charges against the officers.
"We stand with the family and their legal representation and will do everything in our power to ensure a thorough and transparent investigation," the statement said.